My friend Erin had this guy friend. He was nice. They were friends. And then one day she got a letter from him and it was delightful and in it he said he wanted to be more than friends. She thought, "Huh." The next day she got another letter. On the third day, a third letter. On the sixteenth day, upon receiving her sixteenth letter, she said "Yes."
And would you believe it, he kept writing letters. This is a picture of Erin and letter-writing Josh organizing all 365 letters from their first year together:
I heard this story while she was visiting me in Texas recently, and I just couldn't stop smiling. I asked her if she'd liked him before the letters and she said, "No. Not really." She said, "I'd never looked at him like that before." I asked her if she'd ever put off reading a letter or accidentally skipped one, and she said no way. Reading the letters was her favorite part of the day.
Last night, when I asked for permission to tell the story, she added this little detail: 
"At letter sixteen I said yes, but I already kinda decided that I wanted him as my boyfriend by letter 6."
-
The title of this post is "Why You Don't Love God" and it's for people who want to love God, but don't feel like they do. For some reason a lot of us struggle to muster the kind of all-in, heart-full love God expects. 
I have a friend I meet with every week or so to talk about God. We started meeting to work through some of her doubts and questions, but I realized pretty quickly that she didn't have a lot of questions. What she had was a distinct and cement-heavy feeling that despite her years of faithful church attendance and healthy youth group involvement, something, something she couldn't put her finger on, wasn't right. 
I asked if she read the Bible much. She said no. I figured she was like a lot of us who read it and put it aside and then read it again when we start feeling guilty. But later I realized she meant no like not ever. I asked if she prayed and she said not really and I believed her when I prayed for the two of us in Starbucks and she giggled. 
I knew early on that she wanted to love God. But I also knew it wasn't going to happen unless something changed. She needed to open her eyes and look up.
My theory is that a lot of us don't love God because we're not looking at Him. We've been acquaintances, family friends and neighbors for a long time, but we've never actually looked at Him long enough to fall in love.
And with God, to look is to love. 
I will now prove this with a ridiculous example: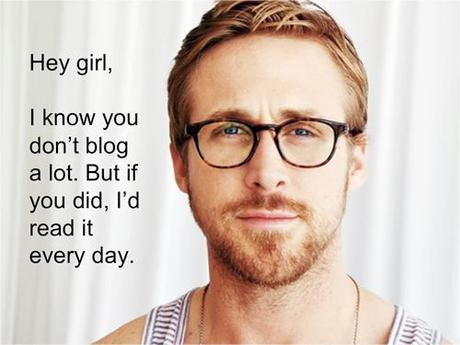 This is Ryan Gosling. And girls love him. They love him because they look at him. A lot. And the things they can see (which are quite limited and sometimes invented) are lovely:
They see him building a house for Rachel McAdams even when he thinks she's given up on him and filling her room with paint supplies and kissing her in the rain, and they love him even though he's playing a character named Noah who is not, in actuality, him.
They see him saying thoughtful, romantic, beautiful things like what he's saying in the picture above, and they love him, even though the things he's saying are things he isn't actually saying.
Girls love Ryan Gosling because they look at what he's doing (in movies) and they look at what he's saying (in memes) and to look is to love.
Sigh.
Now, I'm not saying we should love God exactly like twenty-something single girls "love" Ryan Gosling, but I suspect we'd experience a deeper compulsion and a more, dare I say, obsessive desire for God were we to look more often and more closely at what He's doing and what He's saying. 
If we did, we'd see Him world-crafting and sky-painting and slave-freeing and hungry-feeding and new-making. We'd see Him loving and saving and healing and comforting and blessing and shining and listening and seeing.
I read my Bible and I see Him there and I'm surprised and amazed and floored. I count my blessings and I cry, He's done so much. I listen to a friend's God story and cheer—That's my God.
God says, "Behold I am doing a new thing." And I laugh because I can't catch up.
Looking is listening, too, and if we listen, we'll hear Him saying,
"Let there be light."
"I will be with you."
"Do not be afraid."
He says through my kids, "You're beautiful." He says through my husband, "It's all going to pay off." 
He says tenderly, "Come and have breakfast" (John 21:12).
And He says,
"When I looked at you and saw that you were old enough for love, I spread the corner of my garment over you and covered your naked body. I gave you my solemn oath and entered into a covenant with you, declares the Sovereign Lord, and you became mine" (Ezekiel 16:8).
To look is to love.
The way to look—to explore and discover God—is to read the letters—like my friend Erin did. She read sixteen letters from a guy she hardly knew and the letters changed the way she saw.
For us, the letters are absolutely the text of scripture. Read it. READ it. I can't name one practice that has more effectively glued me to God. I see Him on those pages, and He is breath-taking.
But it's not just reading scripture that counts as "letter reading." It's also reading your blessings by practicing thankfulness and praise. It's reading the stories your friends are living, watching God work up close. It's reading your own heart, feeling and seeing the way He's changing you, shaping you, and making you new. 
Look and love.
-
If it's possible to fall in love with God, it's possible to fall out, too. Like a husband who falls out of love with his wife and says, "I just stopped looking at her that way," we allow life, maybe even the trappings of life with God, to distract our eyes. 
And if we look away for long enough, we forget. We stop reading our Bibles and stop living in community and stop saying thank you, all the while looking away, falling away.
Luckily, it's easy to fall back. 
Whenever I get upset at my husband or when the sparks fly less frequently than I'd like, I pull out my phone and look at the texts I've saved. If it's an especially tough day I'll pull out the photo albums. And I'll see pictures like this one:
And I'll remember what an exciting and passionate and beautiful and interesting man I married. And I'll fall in love. Again.
I do the exact same thing with God, flipping open my Bible to a dog-eared page, or pulling out my phone to scroll through my Instagram-captured blessings. I head to church or call a friend or pray. And I'm reminded of what an amazing God I serve. And I fall in love. Again.
David prays, "One thing I ask of the Lord, this only do I seek: that I may dwell in the house of the Lord all the days of my life, To gaze on the beauty of the Lord and to seek Him…"
Let that be our daily prayer and our hourly practice and we will always, always be falling in love with God.
***
MORE Posts in the Living In Love With God series:
Loving God: Some Days Are Better Than Others
Living in Love With God: Together
Living in Love With God: When Life Conspires Against Conversation
OTHER popular posts:
One Reason You Should Sing Out Loud At Church
Want to Be Awesome? It's Easier (and Harder) Than You Think