It's Field Notes Friday and today we're going to share stories from readers about where they saw God in their grandparents. There were so many good responses to Monday's call for stories (what amazing grandparents we have!) that I've decided to post one in its entirety and quotes from the rest. If you want the full version of every story, see the comments from "I See God In…" There are few better ways to spend your morning. 
This first story is from Arika Young, and it floored me in its beauty. You will probably cry. You will certainly see God.
We often miss opportunities to see God because we allow ourselves to become absorbed in trials we face in this life. I believe that we can see God anywhere—and everywhere when we look.

I've been very blessed with ample opportunities to see God in the lives of my grandparents. Theirs is a true love story. Because of them I know what a marriage can be. I know what marriage should be.

Growing up, my grandmother taught school for a while and later was a stay at home housewife. She took care of all things around the house. She cooked meals, she did laundry, she cleaned, she ran carpool for grandkids, she helped with homework. She taught Bible classes and read us stories. She loved. She loved my grandfather with all that she had. She smiled and laughed. Her eyes sparkled. She taught the importance reading God's word. It was because of my grandmother's faith that my grandfather became a Christian not long after they married.

Age and time have taken a lot away from my grandmother. She suffers from dementia. She hardly smiles, she feels sick every minute of every day. The sparkle from her eyes has faded. Trials. Where is God?

God is in their marriage. God is in my grandfather who now cares for her and has assumed the roles she previously filled for him. God is in the way he answers questions she repeats over and over again. God is in the way he listens to her crying over what she can't remember. God is in the way he fixes her coffee and brings her medicine each morning. God is in the way he now does all the laundry and cooking and cleaning. God is in the gentle ways he pushes her to get out of the bed every morning when she just wants to lie there and give up. God is in the way he would leave her notes so she'd know where he was when she was just "forgetful". God is in the way they are still able to joke with each other and laugh occasionally. God is in the way he turns her Bible to the correct passage for her during church services. God is in the way he loves her even though, in ways, she's not really the woman he married all those years ago.

God is in stories from the past that she tells which always involve my grandfather. God is in the way she still looks at him and tells him she doesn't know what she'd do without him. God is in the way they hold hands when they walk.

I've often tried to imagine what it would be like to watch your spouse, your mate, your whole world, slowly slip away. Although she's there physically, it's not quite the same as it used to be. But I've seen a couple who have been at each other's side through deaths of parents, death of a child, births, baptisms, financial strain, spiritual wealth. I've seen a couple who planted seeds of God's word in their children and encouraged them to study and seek God's truth on their own. I've seen a rich, rich heritage and roots being grounded in God's promises because of their commitment to God and each other. I've seen true love. And isn't that what God is?

Dementia is cruel. It takes away so much of who a person used to be. Some would say it would be easy to wonder where God is or have trouble seeing Him. But me? I think it highlights God. I think God shines so bright in their lives that you can't HELP but see.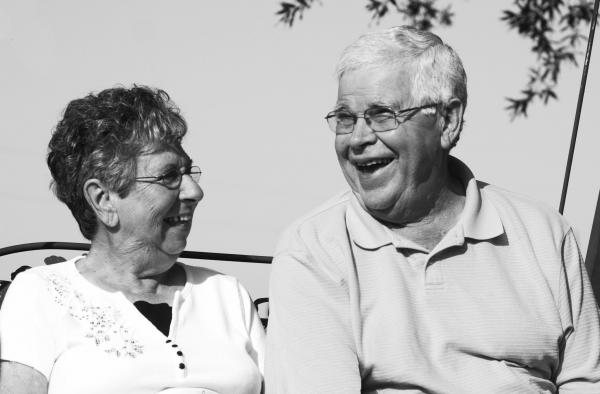 More GREAT grandparent stories:
From Bethany Welborn:
"My grandma Zella showed me a God who loves to celebrate… She truly delighted in treating me and my family to a meal, as we relaxed and laughed and celebrated whatever it was that prompted the whole affair, regardless of whether it was something big like a new job, or small like a new haircut. Grandma would smile and clap and say, "Ooh, Bethany, I'm so happy for you!!", then laugh as she pulled me into a squeeze-tight hug. If she couldn't congratulate me in person, I could always count on getting at least two cards (she could never decide on just one) from her in the mail, with her penned-in exclamation points added to the card's text, and a big smiley face drawn above her signature. That reminds me of my God."
"I am a child of divorce and grew up in a single parent home. My grandma Bell taught me to see God. She helped to make sure that I was always in church. My brother and I would spend every Saturday night at grandma's so we could go to church on Sunday. She would drive 30 minutes out of the way to give me a ride to church… She taught me you had to do what was right even if it made others mad. Grandma taught me never to give up on people. Helen Bell was always doing for others and never wanting praise in return."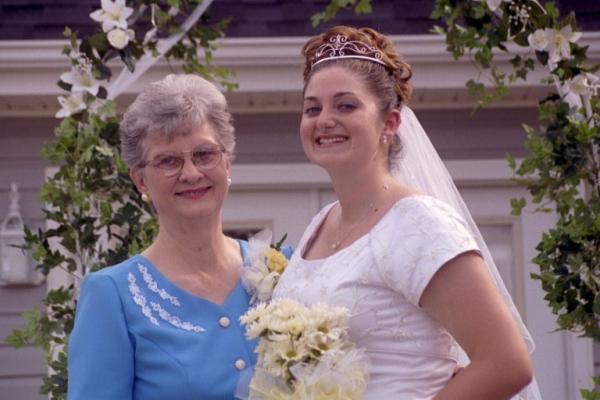 From Candi Tenbush:
I spent a lot of time with my grandma (we called her Nina) when I was a kid, and she was incredibly influential in my growing up years. I loved being with her, snapping beans in the backyard, or squeezing in beside her in the recliner to share a bowl of popcorn. And I saw God in her in so many ways. She diligently took care of my grandpa, who needed a caretaker for about the last 15 years of his life. She was always bringing food to people in need, or helping her elderly neighbor, or calling a friend who needed to know someone cared about them. She always thought of others before herself. So many people saw God in her because of her willingness to care for those around her.
From Rachel Schmidt:
My Granny was a strong southern christian woman who never complained. She grew up in Nashville as the youngest of 10 kids to poor parents. She had a hard life in the time that I knew her. Her preacher husband left her for the church secretary and her world was turned upside down in 1980. After devoting her life to God and the church she had to now find a job in a time that divorce of that kind was scandal. She worked 2 full time jobs most of the time I knew her and slept maybe 4 hours a day. She still made time to watch a grandchild so her daughter could go to work or keep grandkids on a Saturday night. When she was with you she was WITH you. She made you feel like you were the center of the world.

Not going to church meant you had to be on your death bed. God was the center of her life. She read the bible every single day. She believed in his blessings even through hardship. She took meals to those who had babies or were sick, threw baby or bridal showers, wrote cards to people who were ill or suffered from the passing of a loved one and helped neighbors. Where she ever found the time to do any of this … I don't know but she wanted people to know they were important to someone.

…

After her major stroke in the 4 months that she lived I could see in her eyes concern still for others. She would motion for my kids to leave a room so that they would not see her suffer on bad days. She would motion to the radio to hear Christian Music in times that were difficult for her. I believe this helped her feel closer to God at a time she could not read his word. I think even till her death and through her worst nightmare of not being able to talk or move …. she loved God and accepted what was happening as a part of life. She never blamed him for anything. I can't wait until that day I see her again … healthy, happy and with a crown full of gems.
From Justin Gerhardt: 
Severe arthritis had bent my Grandma Shettler's fingers into twisted twigs—her knuckles intersections joining divergent roadways. But I remember those hands with such fondness—I remember them mixing sugar with ripe strawberries as we stood side by side, filling the kitchen with the bewitching smell of homemade jam. I remember those bent fingers grasping a sweating glass of iced sun tea, watching us kids from the patio as we played kickball in her backyard. I remember them nudging Scrabble tiles into place, making words worth three times my last score.

I saw God in my grandmother—in how well she worked with beautiful, broken hands. Like the way God does so much with me and you and the rest of Christ's body.